Exercises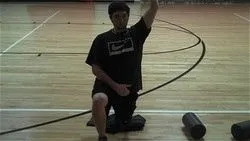 Hip Flexor Stretch – The hip flexor stretch here is one of the most effective stretches for low back pain and tight hamstrings. This stretch targets the deep front line musculature. There are three muscles involved. The Rectus Femoris (quadricep), the Psoas, and the Iliacus, commonly known as the Iliopsoas. By performing this stretch, you should feel the tension into the front of your hip.
1. Begin by placing the knee down of the hip you wish to stretch.
2. The other knee is bent into the lunge position.
3. The key is to contract the glute and thrust the hip forward on the side you are stretching.
4. Perform the stretch slow and repeat until the tension is resolved.