DR.D
Dr. Neil Dukes B.A. D.C. ART, A.K., CACC, TPI-CGFI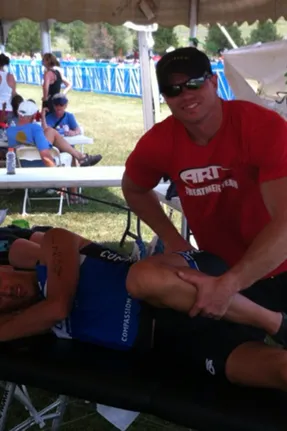 Dr. Neil Dukes graduated from Parker College of Chiropractic in 2005. Prior to receiving his Doctorate, he received his Bachelors Degree at the University of Northern Colorado in Kinesiology, with an emphasis in Sports and Exercise Science. Dr. Dukes has extensive post graduate expertise and experience in sports biomechanics, and ergonomic related injuries. He has been in the health-care field for over 14 years and practicing as a Doctor of Chiropractic in the Dallas/Fortworth metroplex for the past 8 years.
Dr. Neil Dukes BA, DC, AK, ART, CACC, TPI-CGFI is an Instructor for Active Release Techniques, a Member of the ART Elite Doctor's Network, and Master Level Certified with Dr. Leahy. This is the highest level an Active Release Doctor can obtain through study, certification, and testing with Dr. Leahy, founder and developer of the Technique.
IRONMAN PROVIDER NETWORK:
Dr. Dukes is a member of the ART IRONMAN provider network, and enjoys treating local and National Ironman professionals. While treating athletes at the Tempe, AZ Ironman 2007, he was inspired to train for local sprint triathalons. Having a bodybuilding and powerlifting background, he found this a major challenge and a chance to experience some of the repetitive motion injuries that plague athletes. This is where he found Trigger Point Therapy to be an integral part of training process in such grueling events.
Corporate Experience:
As a member of the ART Elite Doctor Network, Dr. Dukes has worked with GE for the past 3 years in prevention and treatment of "acute trauma injuries" and "cumulative trauma disorders". He has a 98% success rate in resolving injuries such as Sprains/Strains, Sciatica, Carpal Tunnel Syndrome, Tennis Elbow, Shoulder Impingement Syndrome, Plantar Fascitis ect. through Active Release treatments; which has dramatically reduced the cost of work injuries for these companies.
Clinical Experience:
Dr. Dukes has worked with three of the top professional clinics in DFW; Chirosport Specialist of Dallas, Whole Health Partners, and Active Spine and Sport Therapy of FW. Here Dr. Dukes was able to learn from the best in their respective fields of Sports Biomechanics, Frozen Shoulder Syndrome, and McKenzie Mechanical Diagnosis and Therapy of Low Back and Neck Pain. Dr. Dukes has also had the previledge to work hands on with the founder of ART Dr. Leahy, in treating professional athletes and instructing other ART providers.
Titlest Performance Institute:
Dr. Dukes is TPI certified and treats Golf-Specific Injuries and recognizes Injury Inducing Swing Mechanics, Advanced Swing Faults, and perfoms a detailed medical evaluation called Selective Functional Movement Assessment. Dr. Dukes enjoys treating and traveling with PGA tour players across the country.
Sports Acupuncture:
Dr. Dukes is licensed to perform Acupuncture/"Dry Needling", or Bio-Medical acupuncture. Having this priveledge requires exact and specific knowledge of the musculoskeletal system. Relaxing the musculature prior to ART treatment greatly speeds healing time. Electro-Acupuncture is a special skill that takes many years to master. E/A can speed recovery, block pain, relax connective tissue, reduce swelling, ect.
Personal:
When Dr. Dukes is not in the office, he enjoys spending time with his family going fishing, hunting, snowboarding, and just about anything else outdoors! Join him on facebook, j neil dukes.